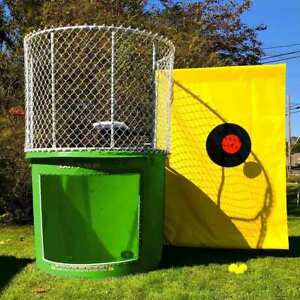 Dunk Tank Rental With All Star Jumpers
Renting a Dunk Tank on a hot summer day in Augusta can provide the best entertainment for the lowest rental price anywhere. Whether for a fundraiser at school or a backyard birthday, renting dunk tanks is easy, affordable, and really fun. We deliver dunk tanks all over Evans, Martinez, Harlem, North Augusta, Appling, Lincolnton, Hepzibah too. Call today to reserve yours!
Book Dunk Tank
Imagine dunking your Principal, Teacher, Boss or your Mom, Dad, Brother or Sister. Step up and take your best shot! Our 500 gallon Dunk Tank has a full window in the front. You can see them sink all the way to the bottom. Try not to laugh at them too hard, you may be next!! A great way to raise money for your fund raising event or just another way to have lots of fun. The Dunk Tank has been the main attraction for many summer camps, birthday parties, vacation bible schools, church fall festivals, school carnivals and corporate events. Book your Dunk Tank Rental today!
For More Dunk Tank Information
Dunk Tank Rental All Star Jumpers Party Rental